Read Carefully
You may think that penis pumps are a modern solution to an age-old problem but not so. As a matter of fact, these innovations have been setting things straight for the past 170 years – pun intended. Originally called the Vacuum Constriction Devices, modern counterparts work just the same as the older models.
The penis pump is a cylinder into which the male member is inserted. Then an external pump creates a vacuum around the penis. This change in pressure pulls blood into the male tool mimicking the flow of blood into an erection. The result? A fully erect phallus ready for business.
Of course, the first items on the market were not quite so impressive and only kept the penis hard while it was inside the device. But, they established an important precedent. A penis, even one afflicted by ED (erectile dysfunction), could be made hard again.
This set the stage for an Austrian doctor with an ingenious plan. While we are not sure how this occurred to him, he began marketing a penis pump that included a ring that wrapped around the base of the penis to prevent blood from escaping.
The ring created the vacuum seal and kept blood from returning to the body. This effectively preserved the erection even after the pump was removed. In the 1970s the FDA approved several of these devices as a suitable cure for the problem with ED.
The benefits of using a penis pump
1. A medically-recognized treatment for ED
We live in a world that is overflowing with surgical procedures and medications to address every human condition. Still, the penis pump is one of the most important and effective remedies doctors and medical professionals will discuss with their patients.
In most cases, ED is caused by issues that affect the flow of blood to the penis. This could be a physical condition, the blood flow to the penis is impaired sometimes due to poor circulation. In other cases the problem is psychological. This could be because the brain is not sending the right chemicals that tell the blood to move into the penis. In either case, penis pumps provide a solution. Psychological and mechanical penis issues are circumvented and blood is brought to the penis to provide a throbbing tool that performs well even with the occurrence of ED.
Most pumps will not provide a permanent cure for ED, but most men will at least achieve the erection necessary to have sex or at least masturbate. For those looking for a permanent solution to this condition, one of the best products on the market is the Bathmate Hydromax, these have been known to provide more permanent results. An independent study showed that these products had a 98% approval rating from those who have tried them and an 85% rate of satisfaction for their partners. More than 75% also reported they were able to reach a climax as well.
Furthermore, the most popular penis pump provides another tool in the kit. It can be used to supplement ED pills without running the risks of overdosing and potentially making matters even worse.
2. Increased size and erection strength
Penis pumps became more popular in the 1970s. People found that in addition to providing a good erection, the penis pumps had the added advantage of making the member longer and thicker too.
This is where things get a little more complicated. The penis will gain a measure of length and girth when using a pump. Most men and their partners have found that to be a good enough reason to use the penis pump. But, these impressive results tend to diminish once the penis has been removed from the pump. The issue is more common for those who are new to pumping.
The cock ring will help to hold the blood in place to a certain extent. This will provide you with a longer-lasting result after removal. Some manufacturers boast that their devices will increase the length by a full 2-3 inches. But, it should be mentioned that the results are there for all men, not just those working with less-endowed penises.
The matter of permanent improvement on size still wages on. One theory states that if the device is used for up to 10 minutes a day the penis pump will increase the size and length of the penis by widening the spaces into which blood flows. If these spaces become bigger, more blood can enter and hence a larger phallus.
3. Treatment for Peyronie's Disease
The condition known as Peyronie's disease can leave the dick with a curvature that can make achieving an erection a difficult task. Additionally, this condition can be a blow to sexual confidence. Once again, the penis pump can arrive with a suitable solution here as well. Regular use of the penis pump can improve and stabilize the condition and adjust the shape of the penis, thus eliminating the need for surgery.
4. A stronger, harder dick
You may not be afflicted with Peyronie's disease, ED, or a heart condition. But, if your cardio is not on point, you may have a hard time achieving an erection. It is the flow of blood to the penis that makes a solid dick. There is actually 8 times the amount of blood in a solid in an erect penis than a limp dick. In such a situation, the penis pump can give you a solid harder dick than you would otherwise achieve.
The use of the cock ring will then trap the blood inside the dick and allow for a longer-lasting erection – long enough for some good fun.
5. Added intimacy and extend foreplay
Like many fun things, the penis pump began as a medical device. Nevertheless, it was soon found that penis pumps are simply fun to use and can allow for greater experiences in the bedrooms. Many couples use penis pumps as part of their arsenal of sex toys for the sheer fun of it. There are even special attachments that can simulate oral foreplay. Just be sure to follow those directions carefully to avoid any… mishaps.
6. Relatively low risk
So long as you follow the manufacturer's recommendations, the penis pump is a relatively low-risk solution to the issue with ED. They are also reliable and fun sex toys as well. However, even if the recommendations are followed, there is still the risk of pain, bruising, numbness, and petechiae – a brown or red-spotted skin.
Some users have mentioned that the erection they get doesn't feel "natural" and others have noted that their penis feels a bit colder than usual. But, if you consider these risks in comparison with the surgical solutions, you will find that the pump is a far safer option to use.
7. Pill free results
Even though there are pills for every ailment under the sun, there are some reasons it is best not to use these options. For one, oral medication for ED, like Cialis or Viagra, can have conflicting problems with other medications, like nitrates and drugs for angina, and men who have had prostate surgery should also avoid oral ED medication.
ED medication can also have a bad reaction with many other medications such as insulin, which means diabetics should avoid the use of these drugs. For those men with any of these issues, a penis pump is a preferable option.
While we are on the subject of med, it should be noted that those who are taking blood-thinning medications, even aspirin and ibuprofen, penis pumps can be dangerous and can increase the risk of internal bleeding.
While the pump will require an initial investment, in the long run, they are typically less costly than purchasing ED medication. Just take a moment to consider how much you will have to pay for pills to support your sexual habits and consider the kind of affordable penis pump you could have purchased.
What pump is right for me?
There are three major types of pumps on the market today. The air-based vacuum option, as well as the water-based and electronic designs. They are all pretty easy to use and mostly depends on user preference.
Here is what you need to know about each one.
The air-based (or vacuum) pump
This option works by creating a vacuum that pulls blood into the erectile tissue and expanding the penis around it. You will operate the pump in one hand and hold the pump in the other. The air-powered option is a good idea for beginners as it has a reduced risk of over pumping. It is often a good idea to purchase the aftermarket sleeve and use plenty of lubrication to avoid blistering.
The water-based (or hydro) pump
Hydro pumps have additional safety and according to some a preferable size boost. But, they are also generally considered the most costly options on the market. This option does not use the same kind of vacuum to create an erection and many guys find this a bit reassuring. Instead, the necessary negative pressure is created by pumping water.
The electric pump
These pumps are operated from a battery that can be charged with the typical USB port. They also offer many of the same advantages as the water pump at a lower price. The very best options will even monitor pressure and have their own auto-timer that ensures everything is pulled off without a hitch. These automatic penis pumps do everything for you.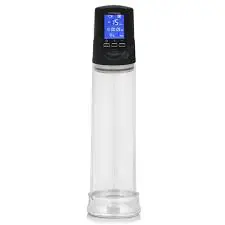 They even make some that more of toys such as automatic blow job machines. Whatever your needs are there is a penis pump out there on the market for you.
Looking to Buy a Penis Pump? Here are some of the Top on the market