Read Carefully
People often assume that penis pumps have a niche audience. While this may have been true in the past, it's no longer the case. These pumps are used by many men. Penis pumps have seen a surge in popularity as men have realized that the pumps are genuinely effective.
Men use these pumps for many purposes. With a pump, it's possible to achieve a larger erection on a short-term basis. However, if a pump is used regularly, it can permanently increase penis size. Pumps are also an excellent option for men that struggle with erectile dysfunction.
If you're interested in these products, you'll want to find out more about how they operate and how they can be used safely.
How Penis Pumps Work
To use a penis pump, you'll need to place a cylinder over your genitals. From there, a pump is used to cause suction within the cylinder. This creates negative pressure. The penis will expand into this area, drawing more blood to the penile shaft.
When this occurs, the blood vessels in the penis will contain more blood than they usually do. This can cause an engorged erection. After the pressure is removed, the penis will gradually go back to its usual size. However, using an erection ring after pumping may allow users to keep their erection for a longer period of time.
Using a penis pump on a long-term basis can lead to a permanent increase in penis size.
While medications can be costly, the majority of penis pumps are reasonably priced. No prescription is required, and it doesn't pose the same risk as invasive treatments. In fact, a penis pump can be used alongside prescription drugs like Cialis and Viagra.
While penis pumps are easy to use and safer than many other options, there are still some risks. Using a pump can lead to swelling, pain, and discoloration. The tissue of the penis can even be damaged. Thankfully, if a pump is used properly, you can sidestep these problems.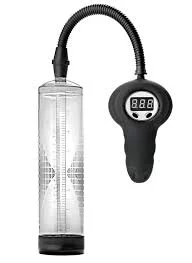 You need to be aware of how to safely use a penis pump. As long as you're familiar with that, you'll find that the advantages are greater than the risks. Above all else, you should make sure you read the instructions before using a penis pump. There are thousands of products on the market. Although all of these products function in the same basic way, you'll still find variances from one pump to the next. If you want to reduce your risk, you'll want to take the time to read the instructions that came with the pump and follow them to the letter.
Search for a penis pump that has a pressure gauge.
If you're new to penis pumps, you could wind up applying too much pressure to your penis, even if you're careful to follow the instructions. Because of this, your best bet is to search for a pump with a pressure gauge. A vacuum limiter can also be helpful.
With a pressure gauge, you'll be able to see how much pressure is being applied to the penis. With a vacuum limiter, pressure will be limited automatically. This means there's no risk of over pumping.
Try using a sleeve or a comfort pad.
If you add cushioning to your pump via a sleeve or a pad, you can reduce your risk of injury. It's important to remember that these pumps are made from firm materials.
Since these pumps are fairly rigid, you'll want to use some sort of cushioning to make the pump more comfortable. If you don't use any sort of sleeve or pad, you could wind up with bruising.
As an added bonus, a sleeve can create an airtight seal between your skin and your penis pump. This can improve the suction inside of your cylinder. Furthermore, with a sleeve, you can ensure that your scrotum remains outside your pump. If the cylinder you're using is too big, your scrotum could be sucked in unless you take steps to avoid this.
Groom your pubic hair
Another way to guarantee an airtight seal is to properly trim your pubic hair. The shorter the hair, the better. Waxing or shaving your hair is the most effective option. However, if you manage to trim your pubic hair, that should be enough to maintain a strong seal.
If you've been sticking to the instructions, and the seal you're making still isn't strong enough, you should focus on your grooming.
Don't be afraid of lubricants.
It can be very helpful to place a lubricant around your sleeve or pad. Opt for a lubricant that's water-based. Make sure you don't apply too much; this could cause your pump to slip. Start out with a smaller amount and add more if you need to.
Find a cylinder in the appropriate size.
Read product descriptions before purchasing a penis pump. Make sure you use measuring tape so that you can determine the cylinder size you need. Your penis should be measured while it's erect and while it's flaccid. This will help you to determine an appropriate size. Your goal should find a cylinder with a comfortable fit that will give you enough space to grow. You should remember that your penis size is unlikely to increase by more than a few inches. Having room to grow can be helpful, but don't leave too much space.
Use your pump sparingly.
This piece of advice is particularly important for men that are new to using a penis pump. Because this will be a brand-new physical sensation, you'll want to start out slow.
You'll want to begin with two or three pumping sessions per week. Limit your sessions to 15 minutes. After you've had time to adjust, you can use your penis pump more frequently.
However, you'll still want to limit yourself to 15-minute sessions. If you're interested in longer sessions, you'll want to take regular breaks. You should relieve some of the pressure and massage your genitals to improve blood circulation. This can enhance the pumping process.
If you're doing more than one pumping session in a short window of time, you'll want to make sure your penis has stopped growing before you start pumping again. If you can tell that your penis is growing, wait for it to stop before you start using the pump again. If you pump for more than 15 minutes, or if you do too much pumping without taking a break, it can cause short-term injuries. Discoloration, numbness, and blisters are a few of the problems you might be dealing with.
It's common for people that are new to penis pumping to experience these issues. Even though the penis will heal, it can still be alarming to see these injuries. If you do have issues like this, you'll want to take a break from pumping until your penis is back to normal.
Another threat you'll be facing is ruptured blood vessels. This issue is caused by over-pumping. If you encounter this problem, you can expect swelling bruising, and pain. Worse yet, it could keep you from getting an erection for weeks or even months. Pumping too much can also lead to an issue that people usually refer to as "the doughnut effect." Based on the name, you can probably guess what this injury looks like.
During the pumping process, blood is drawn to your penis. However, lymphatic fluid is drawn there as well. While this happens naturally, having too much lymphatic fluid in your penis can cause swelling, which can cause a doughnut-like effect. This will usually go away on its own, but if it doesn't, it might be necessary to visit a doctor. If this happens to you, you won't want to use your pump until it has healed fully.
This might seem frightening, but it's important to remember that all of these issues are easy to avoid. Just take things slow and limit yourself to 15-minute pumping sessions.
Choose pump that's clear so that you can see everything.
Want to make sure you're not injuring yourself? A clear pump is a great option. That way, you can watch out for signs of strain. Search for clear cylinders when you're looking at penis pumps.
While pumping, you'll want to watch out for spots or other indicators of discoloration. It's normal to experience some redness, but if your penis is extremely red, there may be a problem. You should also focus on how you feel as you pump. It's normal to feel pressure, but you shouldn't experience intense discomfort or pain.
Many men report that pumping is a pleasurable experience. Some have even compared it to oral sex. If you're uncomfortable when you're pumping, that's an indicator of a problem.
Find a pump with a quick-release valve.
If you're choosing your first penis pump, having a quick-release valve is crucial. Having a way to quickly release your pump can help to prevent injury.
It's standard for pumps to include a valve that will release pressure, allowing you to remove the cylinder from your penis. As the name implies, quick-release valves have a swifter response, removing pressure in an instant.
If you're in pain, or if you see signs of discoloration or swelling, acting quickly can prevent serious damage.
Penis pumps aren't for everyone.
You should be aware that penis pumps can't be used by all people. In some cases, conditions may prevent people from using a pump safely. People in this group are unable to use pumps:
People that suffer from diseases that cause excessive bleeding or clotting, like sickle cell anemia.
People on blood thinners.
Those suffering from priapism.
If you're using an erectile dysfunction medication, you'll also want to talk to your doctor before you start using a penis pump.
Conclusion
This might seem like an overwhelming amount of information. However, these precautions are actually pretty simple to follow. Once you're used to using a penis pump, you'll have a clearer picture of what you should do. As long as you stick to these basic guidelines, you should be able to safely pump and enjoy all of the benefits that it offers. You'll have a more satisfying sex life and will be able to maintain erections.