Read Carefully
A lot of men experience some form of erectile dysfunction by the time they hit 40 years of age. In fact, 5 percent of all men that are at least 40 have complete erectile dysfunction and that number skyrockets to 15 percent at 70 years old [1]. While there are various ways to approach this type of condition, Bathmate has managed to come up with one of the most effective with its innovative penis pump. Whether you are looking to reduce the negative symptoms associated with having erectile dysfunction or you are looking to increase your penis size, it can be a very good solution. Below, we will be going over what it is, some benefits of it, and our final thoughts.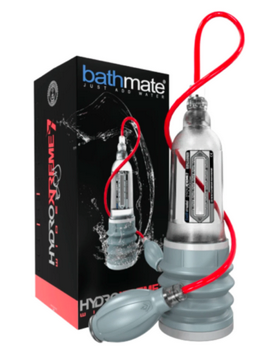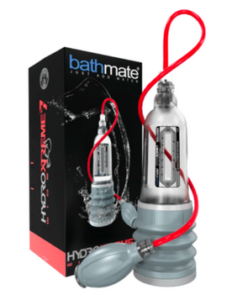 What Is It Exactly?
The Hydroextreme 7 Wide Boy is a brand new and revolutionary product from Bathmate. It is an ultra-powerful hydro pump that can help both people that are looking to increase size and girth along with those looking to sustain longer erections.
How Does It Work?
This unique pump works by essentially turning the chamber into a vacuum which can help to generate increased blood flow directly into the penis which can lead to stronger erections. Because of this, it can help the penis grow in size and it can help those with some form of erectile dysfunction achieve longer-lasting erections.

Benefits Of The Hydroextreme Wide Boy:
1. Achieve Harder and Longer Lasting Erections
Perhaps the greatest benefit of using this product comes with its ability to help you achieve stronger and longer-lasting erections each time. While it doesn't give permanent results, the results will last throughout the duration of intercourse. By improving the blood flow directly to the penis region, the user is capable of achieving and maintaining steadier erections which can increase the length and girth of the penis. This, in combination with using something like a penis ring, you can achieve even longer-lasting results. Therefore, it can be an effective tool in those with erectile dysfunction and even those that are simply looking for penile growth.
2. It's Safe
Unlike some of the products on the market that might cause issues, this penis pump is completely safe. The HydroExtreme7 Wide Boy is completely designed with safety in mind. It maxes out at the maximum level of what is deemed to be safe pressure using water rather than just air. This allows the unit to deliver superior results with no risk.
3. It Fits Those That Are Already Bigger
If you are too girthy for the Hydromax7 but you haven't exceeded the length, this is designed for you. Previously, those that were too girthy but who wanted size weren't able to get the same experience with our innovative technology. Now, you have the ability to use the Wide Boy if your penis is 5 to 7 inches in length and less than 7.6 inches in girth. This will give you the ability to experience the benefits of the Hydroextreme innovation if you couldn't previously fit in the smaller models.
4. Comes With Complete Satisfaction Guarantee
Whenever you are buying a product like this, it is always a good sign to see that the company is confident enough to offer a complete satisfaction guarantee on it. Bathmate is confident enough in the effectiveness of their Hydroextreme7 series that they are willing and able to offer a 100 percent complete satisfaction guarantee or your money back. This guarantee is valid for up to 60-days in which you can claim a full refund with no questions asked.
5. Easy Operation
Unlike a lot of the other models you will find on the marketplace that are intended to do similar things, this unit comes with a handball attachment. The handball attachment is much more than a gimmick. It actually makes the entire operation much easier and more convenient. It is a quality of life feature that quickly becomes a must-have once you try it. Other models, you have to manually pump the water out yourself. With this, you can simply squeeze the handball and it will do the work for you.
6. Certified Skin Safe
This product is made up of high-grade plastic materials that are certified Skin Safe. This means you don't have to worry about having the materials harm or cause a reaction to your penis.
7. Easy To Clean
The unit is very easy to clean as all of the parts of the pump are designed to allow you to wash it with water and completely dry it. This can make maintenance much easier and more convenient.
Is It Worth Buying?
The Hydroextreme7 Wide Boy is easily one of the best options you have available if you meet the size specifications. Not only can it produce quick erections, but it can produce sustained results that can last well through intercourse. The addition of the handball makes operation a breeze in comparison with manual pumps. The entire product is made up of high-quality Skin Safe plastic which means there is no risk of irritation. It is effective not only for those looking for a solution for erectile dysfunction but also for those that are simply looking to increase length and girth. The use of water means the unit is able to deliver the highest level of safe pressure with no risk of injury. Bathmate are willing and able to offer a full satisfaction guarantee with each penis pump purchase which shows their confidence in their product delivering great results and value for their customers.