Read Carefully
Are you looking for an affordably priced penis pump?
It's important to choose a quality product when you're shopping for a penis pump. With that said, your budget may be a bit limited. Luckily, even if you choose something cheap, you can find high-quality options that perform well. In fact, there are excellent options priced below $100 that can increase your penis size if used regularly. Of course, there are downsides to opting for something that's on the cheaper side. These options aren't on par with premium pumps, like Bathmate or Hydromax, but they're still excellent options for beginners.
Below, you'll find comparisons and reviews of affordable penis pumps that offer a terrific value for the price.
The Penis Pumps That Offer the Most Value
Here, we're defining "affordable" as "priced below $100." We're not trying to say that these products are worse than more costly options, and we're not saying that you shouldn't splurge at a system priced at more than $100 either.
Everyone has a budget in mind for a purchase like this, and the goal is always to make the most of the budget that you have. Even though these pumps made be made from materials that are slightly less resilient or missing out on extra features, they're solid options for men looking for a budget-friendly pump.
What are the best options below $30?
BASICS Classic Penis Pump
This waterproof pump is phthalate-free and made out of ABS plastic. It includes a manual bulb that is easy to grip and comes with an adaptable hose. For best results, you'll want to use it for sessions up to 10 minutes three times each day. Pair it with a lubricant that's water-based.
According to reviews, the cylinder's internal length is appropriate for up to 6″.
This is a well-reviewed product that has satisfied many customers. Customers praise it for being:
* Simple to use
* Beginner-friendly
* Excellent quality for the price tag
The downsides mentioned state that the pump could be more powerful, that it can be difficult to clean, and that the internal cylinder may not be larger enough for all users. The lowest review is a 3/10. The reviewer specified that they didn't think the pump had enough draw.
BASICS Textured Penis Pump
This penis pump, which comes from BASICS, has a similar design to the product mentioned above. The key difference is that this pump has a textured cylinder, which means pumping is more pleasurable.
It's latex and phtlate-free, and it's splash-proof as well. It's a great option if you're looking for an entry-level pump. It's received strong reviews on Lovehoney. Over 330 people have reviewed the pump, and the average review score is 8/10.
Reviewers say that a pump is a terrific option for people that are new to penis pumps and that it delivers plenty of value for the price. Users also state that the pump is simple to use and that it has sturdy construction. There are even users that say they outgrew the pump for so long. However, some people find the texture on the cylinder is uncomfortable. The cylinder is also tinted, which bothers some users.
Pump Worx Beginner's Power Penis Pump
This system, which is made by Pipedream, offers users the choice of a tinted or clear cylinder. It comes with a PVC sleeve, which makes it easier to get a great fit. It also includes a cock ring made from a stretchy silicone. With this, you'll be able to maintain your erection after you pump.
It has a manual bulb, which is connected to the pump through flexible tubing. You can get relief from pressure in an instant thanks to the quick-release valve.
While there are just 13 reviews, those reviews are very positive. The average rating for the device is 8/10. Negative reviews came from men that struggle with impotence. They found that it wasn't helpful to use a cock ring when pumping. Overall, users would have liked more suction from the pump, but they still thought it was user-friendly.
BASICS Trigger Penis Pump
This pump isn't conventional, but it's a great option for men than struggle with standard pumps.
What really makes this pump stand out is its dimensions. Even though it's longer than a typical pump but several issues, it has a narrower canal diameter. It has a clear cylinder with measurement markings, which means it's easy for you to see how far you've come. While this pump may not be the best option for men with girth, it's likely that the smaller aperture will improve suction.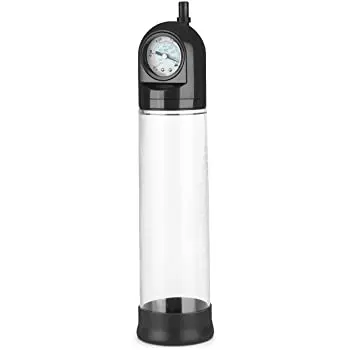 The product has three reviews, and all of them are highly positive. If you're looking for an entry-level pump with a more unusual pumping mechanism, this is an option you'll want to consider.
What is the best penis pump between $30 and $50?
Precision Penis Pump
Once you look beyond the most basic penis pumps on the market, you'll start to see models offering some useful features. This pump from Precision is an excellent example of that. It includes a cock ring that is designed to boost erections as well as an internal seal that improves and maintains your vacuum. It should be noticed that the seal is made with latex. If you have a latex allergy, you'll want to look at some of your other options.
The pumping bulb is handheld with an ergonomic design. It also has a valve for instant release.
This is another product with lots of positive reviews. They praise the pump for its ease of use and say that it's an excellent choice for beginners.
Lovehoney Pumped Up 7 Function Vibrating Penis Pump
This pump is designed by Lovehoney and comes with a wide array of appealing features.
The design of the main chamber is fairly basic and isn't that different from many of the other devices reviewed here. It has a standard bulb design, flexible host, and a button for quick release. What stands out is that this includes a bullet vibrator, which offers 4 pulse patterns and 3 speeds. It runs on 2 AAA batteries. The vibrator rests in a belt on the exterior of your cylinder and makes pumping more pleasurable. The pump is also completely waterproof. In fact, the manufacturer claims that it can be entirely submerged underwater.
This may not impact the pump's performance, but it's still something that's worth noting.
Reviewers claim that the pump is simple to use and that the vibrator is a nice bonus. Criticisms mention that the vibrator is noisy and that the cylinder has a narrow aperture. There are also reviewers that say they'd prefer a clear cylinder rather than a tinted one.
Doc Johnson Mega Cock Penis Pump
The Doc Johnson brand has an excellent reputation when it comes to sex toys. While they make numerous pumps, this is the entry-level model that they offer. It has a standout design that's made to look like a massive member. It's practical as well; it can work to maintain a seal around your own natural shape.
At the entrance, you'll find a size reduction seal. This also maintains pressure inside the chamber, giving you better results overall.
According to reviews from users, the shape is an excellent asset and the pump works very well. There are a few complaints, however, the tubing connection isn't quite sturdy enough for some users, and some reviewers would prefer a more resilient valve.
Quick Draw Trigger Controlled Penis Pump
This pump has an unusual gimmick, which might appeal to you or turn you off. It does have your standard clear cylinder made from plastic, along with an internal seal, but it offers something other than a basic bulb for pumping.
It doesn't feature a standard trigger either. Instead, the pump is designed like a gun. It's an appealing design choice that can also be practical. Some men may find it easier to operate than a bulb.
It's also one of the larger penis pump systems at this price range. The cylinder measures 9″ long and has a diameter of 2.25″.
It includes a cock ring, but it's on the smaller size when compared to the size of a pump. In spite of that, it offers a strong vacuum, and the majority of reviewers seem to be happy with the trigger design. The complaints mentioned have to do with the plastic chamber. Some reviewers say that it has a cheap appearance.
If you have a latex allergy, you should be a way that it has a latex internal seal. This product is made by California Exotic Novelties.
STA-HARD Stamina Training Penis 4-Piece Pump Kit
This 4-piece kit, which also comes from California Exotic Novelties, include:
* Penis pump
* Stroker
* Bullet vibrator
* Double cock ring
As for the penis pump, the design is simple, with an internal seal and clear cylinder. The bulb is handheld, and it features a quick-release button as well. You'll have to decide whether these kinds of extras are worth paying more for. There isn't a huge difference between how efficient this pump is when compared to the pumps from BASICs, aside from the length and diameter.
Lust Pumper 10 Function Vibrating Penis Pump
At first glance, you might think that this is a weapon rather than a penis pump. However, when you take a closer look, you'll see that this sex toy is loaded with features. The vagina sleeve is definitely a stand out option, as is the 10-function vibrator. It's clear that this is a pump that gives users quite a bit for their budget.
This pump has a transparent cylinder, but it is tinted, which may be an issue for some users. This is something that has been brought up by several reviewers.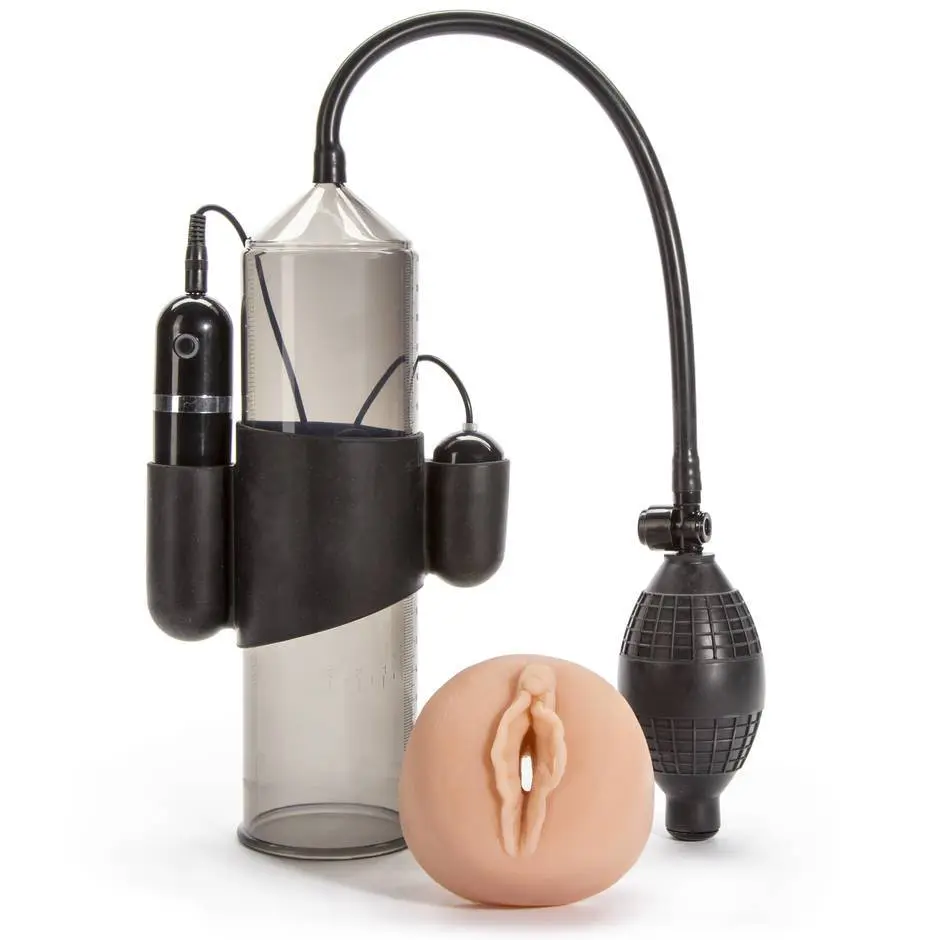 The aperture is fairly tight with the sleeve, with a restriction of 0.5″. Although you can remove the sleeve, reviews state that doing this can cause issues with your seal.
If you don't mind the tighter entrance, this is a solid design with a lot of standout features. If the tighter entrance will pose a problem for you, you're going to want to look at some of the other products that are listed here instead.
Tracey Cox EDGE Ultimate Performance Stamina Penis Pump
Tracey Cox is a sex expert that's famous across the globe. Her name is attached to many products, including two products listed here. In fact, if you take a closer look, you'll see that she's behind the top two bestselling products on Lovehoney.
What does this system give you?
While many models at this price point include a number of extra gadgets or features, that's not the case here. What you're paying for is a higher quality design and build quality.
It includes an internal sleeve that's made from silicone rather than latex. The cylinder has a measuring gauge, which means recording performance is simple. It includes a basic manual bulb equipped with a quick-release valve. The design is highly comfortable and the 150 verified reviews rave about this product. If build quality is a priority for you, then this is a product worth investing in.